Riddles in the dark
€

50.00 -

€

150.00 Coming Soon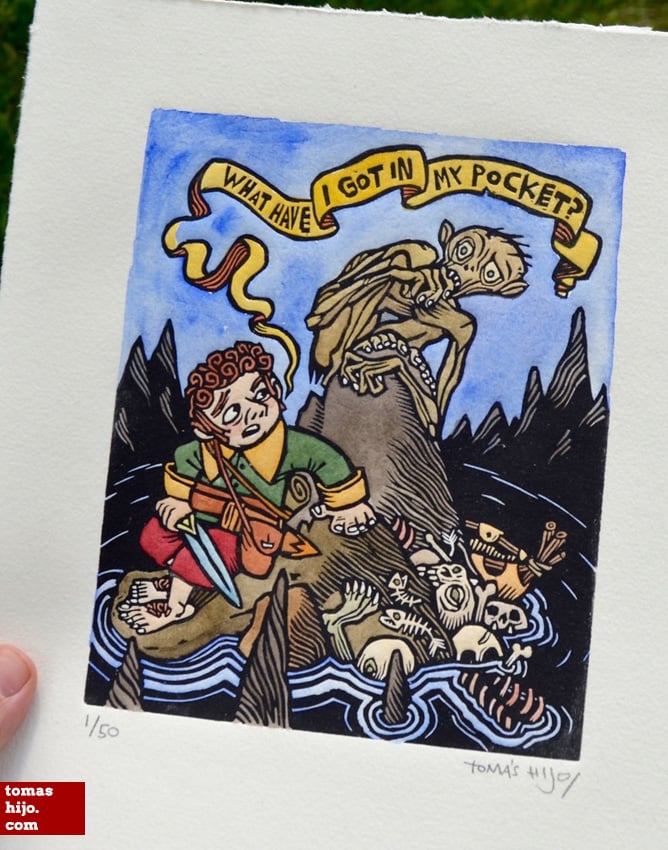 ENGLISH
"What I have got in my pocket?"
Choose your option: b/w or full color.
(Colored by hand with top quality watercolors).
Linocut print. (Watercolor colored option).
9x15 in. 250 gr. Super Alpha museum quality deckled paper.
Signed and numbered. Limited series of 50 prints.
ESPAÑOL
"¿Qué tengo en el bolsillo?"
(En el grabado, el texto aparece en su versión original inglesa).
Selecciona tu opción: blanco y negro o coloreado completo.
(Coloreado con acuarelas de máxima calidad).
Grabado en linóleo. (Opción de coloreado a mano con acuarela).
23x37 cm. Papel Super Alfa de calidad museística de 250 gramos. Bordes rasgados a mano.
Serie limitada de 50 ejemplares. Numerada y firmada por el autor.
Para cualquier duda, aquí estoy.
NOTE/NOTA
This is not a mechanized print. This is a 100% handmade print. I design and carve by hand each wood or linoleum block that afterwards is inked and pressed against a high quality paper. Such and ancient technique doesn't produce exact prints and this makes each print more valuable. No pixels, no dots, no bits involved: only ink, paper and pressure. More personality, more tactile and visual pleasure.
More info about the process here.
Esta no es una impresión hecha en una imprenta al uso. Es una estampa hecha completamente a mano. Diseño y tallo a mano cada plancha de madera o linóleo. Después se cubre de tinta y se prensa contra una hoja de papel de la mejor calidad. Es una técnica muy antigua que no produce dos copias exactas, lo que aumenta el valor de cada ejemplar. No hay píxeles ni puntos ni bits, sólo tinta, papel y presión. Más personalidad y mayor calidad táctil y visual.
Más información sobre el proceso aquí.
Share