Custom bookplate / Ex libris personal
€

120.00 Coming Soon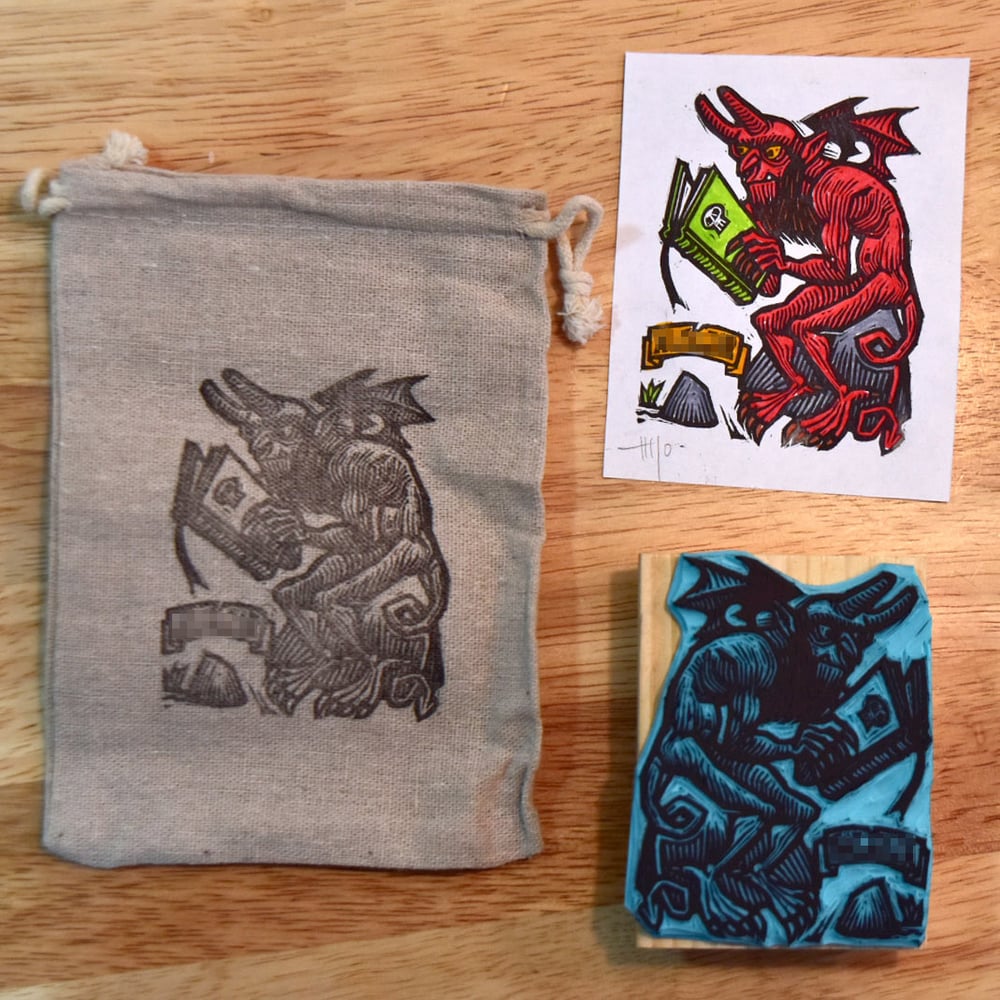 ENGLISH:
Make your books amazingly and unmistakably yours.
ONE OF A KIND: I will design and carve your bookplate following your wishes!
This is a durable vinyl rubber bookplate mounted on a wood handle.
It works with a regular office inkpad or (even better) with fancy scrapbook inks like Versafine or StazOn.
2,7 x 3,5 inches approx.
How to order yours?
1. Choose a motif (real or fantastic).
2. Choose your lettering (your name or initials, usually).
3. Make your order and let me know your choices at tomashijo@gmail.com or through the contact form of this site.
4. I will prepare a sketch for your approval.
5. After your approval, I'll carve and send you (tracked parcel) your bookplate.
INCLUDES A BAG WITH YOUR DESIGN, A PRINT SIGNED AND COLORED BY HAND AND A STICKER.
NOTE: My bookplates work superb if focused in a character (specific accesories, features and actions are ok) plus a name. If you want an scene, landscape, group of characters or something "predesigned" by you, please ask before ordering using the contact form.
NOTE 2: I don't carve designs made by other artists (of course) :)
ESPAÑOL:
Personaliza tus libros de forma grandiosa e inconfundible.
CADA EX LIBRIS ES ÚNICO: lo diseñaré y tallaré según tus deseos.
Ex libris de goma vinílica elástica y resistente montado sobre un soporte de madera.
Funciona con un tampón de tinta de oficina normal y aún mejor con tampones de scrapbooking como Versafine o StazOn.
7x9 cm. aprox.
¿Cómo hacer tu pedido?
1. Elige un motivo (real o fantástico).
2. Elige una palabra (normalmente, tu nombre o iniciales).
3. Haz tu pedido y hazme saber tus elecciones en tomashijo@gmail.com o mediante el formulario de contacto de esta web.
4. Te enviaré un boceto para que apruebes.
5. Tras la aprobación del boceto, tallaré tu ex libris y te lo mandaré por correo certificado.
INLCUYE UNA BOLSA ESTAMPADA CON TU DISEÑO, UNA ESTAMPA FIRMADA Y COLOREADA A MANO Y UNA PEGATINA.
NOTA: Mis ex libris quedan muy bien si se centran en un personaje (pueden llevar sin problemas accesorios y tener rasgos y acciones específicas) y un nombre. Si tu idea es una escena, un grupo de personajes o algo "prediseñado" por ti, por favor, consúltame primero usando el formulario de contacto.
NOTA 2: No hago ex libris con diseños de otros artistas (por supuesto) :)
Share